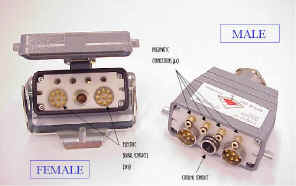 Taylor made Industrial connectors.

Cheaper and safer!



"All in one"

- Pneumatic
- Electric
- Cooling conduct


Define your own concept of the connector!

Various combinations possible:
With industrial housing.

Number of electric signal contacts self definable.

Number of pneumatic connections self definable.

Cooling conduct at your choice.

– Safe: no wrong connections anymore!
– Cheaper: just one connector for multiple connections.
Tech. specif. Click Here
E-mail us for incredible pricing.
Distributorships still available in certain countries.
Special pricing available for first time distributors.
---